| Author | Illustrator | Speaker
Beccia's Books
Book Reviews
STARRED REVIEW
Frequent black-and-white spot art and snarky footnote asides add comedy to this already high-interest blend of history and science. Entertaining and fascinating, with a clever incorporation of STEM topics.
-Booklist
STARRED REVIEW
Her stylish mélange of witty illustrations —silhouettes with speech bubbles, dramatic tableaux, caricatures—and interactive text demands reader participation...
-Publisher's Weekly
Digital Painting and Adult Biography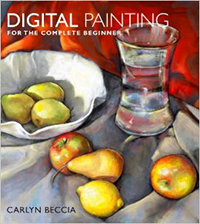 Digital Painting for The Complete Beginner
Watson-Guptill, 2012
Whether you are a beginner or an expert, master the tools and techniques of digital painting programs. Carlyn Beccia begins with the fundamentals, including understanding brushes, canvases, and available media—with opportunities to practice and experiment along the way. The easy to follow tutorials show how to create a diverse range of art, including drawings, sketches in pastel and watercolor, oil paintings, and mixed media pieces. Whatever your interests are in art and digital media, Digital Painting for the Complete Beginner will be your point of departure for making your own expressive and unique digital works. Learn more
The Digital Renaissance
Focal Press, 2014
The Digital Renaissance teaches you how to translate the methods and skills found in traditional art to the digital medium. By covering fundamental painting principles and the basics of digital software, before moving into tutorials that break down key techniques, professional artist Carlyn Beccia teaches you how to use the tools at hand to paint your own works of art.
Each chapter showcases one great painter and analyzes the techniques that set each one apart. These techniques are then imitated in step-by-step tutorials, allowing you to achieve amazingly convincing results and bring your own work to new creative heights.Learn more