| Author | Illustrator | Speaker
Beccia's Books
Testimonials
I like that you draw ugly people. Some day I would like to be an author and illustrator just like you!
-Sorine, Age 8
Thank you for coming to our school. You were fantastic. My favorite part was when you drew that picture of Gargantuan...
-Sophia, 4th Grade
You are a great person, not to mention a great author and illustrator. Thank you.

P.S. My Grandma lives in Needham!
-Abby, 4th grade
I liked the way you do digitial drawing, because it is cool.
-Jack, 3rd grade
News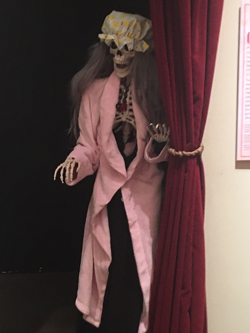 9.10.2109
Recent Radio Interviews
Coastal Daybreak on WTKF-FM and WJNC-AM regional NC
Morning News on KXYL-AM/FM in Brownwood TX


8.6.2109
Press Release
7.24.2109
Two Starred Reviews for Monstrous!
Monstrous receives a starred review from Kirkus.Read the review


Monstrous receives a starred review from Booklist.Review coming soon...
4.15.2109
Jr. Library Guild Selection
Monstrous: The Lore, Gore, and Science behind your Favorite Monsters is a Jr. Library Guild Book Selection. Pre-order Monstrous.
3.30.2018
Filming the Scholastic Book Fair Commercial
Gertrude (my pet skeleton) made her acting premier at the Mutter Museum in Philadelphia. Thank you to the Scholastic crew and museum staff for putting together a fabulous book trailer. I am excited to see They Lost Their Heads at this year's Scholastic Book Fair.See the Commercial
4.5.2018
Amazon Featured Book of the Month
They Lost Their Heads is one of Amazon's Books of Month.