| Author | Illustrator | Speaker
Beccia's Books
Book Reviews
STARRED REVIEW
Frequent black-and-white spot art and snarky footnote asides add comedy to this already high-interest blend of history and science. Entertaining and fascinating, with a clever incorporation of STEM topics.
-Booklist
STARRED REVIEW
Her stylish mélange of witty illustrations —silhouettes with speech bubbles, dramatic tableaux, caricatures—and interactive text demands reader participation...
-Publisher's Weekly
Beccia's light, cheeky approach to the subject matter is tailor-made for a middle-grade audience . . . Readers fond of the gruesome and grotesque with a heavy dose of humor will find much to enjoy here.
- Kirkus Reviews
...quirky, clever compendium. . . . The author's chatty, irreverent narrative profiles each highlighted luminary and offers supplementary info on such topics as embalming, phrenology, and cryonics―and ample doses of downright creepy, kid-pleasing trivia.
- Publishers Weekly
This humorous approach to history has strong booktalk potential, and also serves as a compelling introduction to the notion that separating fact from fiction can be challenging and fun.
- School Library Journal
Children and Young Adult Books
Monstrous: The Lore, Gore, and Science Behind your Favorite Monsters
Carolrhoda Books (September 3, 2019)
Could Dr. Frankenstein's machine ever animate a body? Why should vampires drink from veins and not arteries? What body parts are best for zombies to eat? (It's not brains.) This fascinating encyclopedia of monsters delves into the history and science behind eight legendary creatures, from Bigfoot and the kraken to zombies and more. Find out each monster's origin story and the real-world history that informed it, and then explore the science of each creature in fun and surprising ways. Tips and infographics―including monster anatomy, maps, timelines, quizzes, survival kits, and real-life giant creatures of the deep sea―make this a highly visual and fun-to-browse book. Order from Amazon
Order from Barnes and Noble
Order from your local Indie store
They Lost Their Heads!: What Happened to Washington's Teeth, Einstein's Brain, and Other Famous Body Parts
Bloomsbury USA Childrens (April 3, 2018)
From the kidnapping of Einstein's brain to the horrifying end of Louis XIV's heart, the mysteries surrounding some of history's most famous body parts range from medical to macabre. Carlyn Beccia explores the misadventures of noteworthy body parts through history and springboards to exploring STEM topics such as forensics, DNA testing, brain science, organ donation, and cloning. The engaging tone, wonderfully creepy subject matter, and delightfully detailed art are sure to capture even the most reluctant readers. The book has 17 six-page chapters about wandering body parts, each concluding with a "Where are they now?" sidebar that provides their current locations. Chapters are followed by sections that offer information about related topics such as historical burial traditions and practices, the value of bodies for research, and advances in forensic and pathological science. Learn more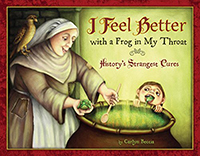 I Feel Better with a Frog in my Throat
HMH Books for Young Readers; (October 25, 2010)
It wasn't too long ago that people tried all sorts of things to help sick people feel better. They tried wild things like drinking a glass full of millipedes or putting some mustard on one's head. Some of the cures worked, and some of them…well, let's just say that millipedes, living or dead, are not meant to be ingested. Carlyn Beccia takes readers on a colorful and funny medical mystery tour to discover that while times may have changed, many of today's most reliable cure-alls have their roots in some very peculiar practices, and so relevant connections can be drawn from what they did then to what we do now. Learn more
The Raucous Royals: Test your Royal Wits: Crack Codes, Solve Mysteries, and Deduce Which Royal Rumors are True
HMH Books for Young Readers; (October 25, 2008)
Psssst....Have you heard the one about Anne Boleyn and her six fingers? Did King George III really talk to trees? Did Napoleon Bonaparte have reason to have a short complex? Do you believe any of these rumors? The Raucous Royals invites readers to become a history detective and come to their own conclusions about 13 pretty raucous royals. Each of these rulers is remembered for rumors and gossip that have survived thousands of year. Some of these rumors are true and some of them are false. And with some of them we will never know. But all of them are told to you in secret. Please don't repeat them... Learn more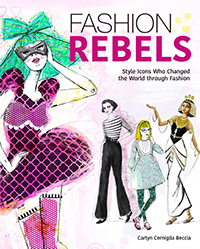 Fashion Rebels: Style Icons Who Changed the World through Fashion
Aladdin/Beyond Words (September 6, 2016)
Get to know the women who've wielded the power of fashion and brought about change with this illustrated biography that features twenty-five of history's most influential fashion icons. Throughout time, daring women have made fashion choices that have altered the course of history. From Marie Antoinette, who wore a hairstyle as large as her presence, to Coco Chanel, who imagined a world without rib crushing corsets and heavy gowns, to Katharine Hepburn, who walked around the studio in her underwear when studio executives refused to let her wear her then-scandalous jeans, these women were mavericks as well as rebellious icons. Featuring hairstyle tips, DIY projects, inspiration boards that break down each icon's style, and illustrated timelines that cover the evolution of pants, skirts, the little black dress, and more, Fashion Rebels: Style Icons Who Changed the World through Fashion invites readers to treat fashion as an act of fearless creativity—and even become fashion trailblazers themselves. Learn more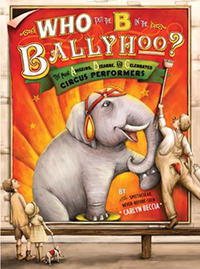 Who Put the B in the Ballyhoo?
HMH Books for Young Readers (April 9, 2007)
Before the days of TV, DVDs, and video games, there was the circus. When it came to town, businesses and schools would shut down. Folks would gather round, for there, right in front of their eyes, was drama, action, and intrigue. There was the grace ofthe bareback rider, the daring of the acrobat, the strangeness of the snake lady, and the delight of the dancing pigs. Vintage-style circus posters capture the weird and the wonderful while fascinating sidebars reveal historical truths behind America's circuses. What was it like when the circus came to town? This book, illustrated in rich oils, gives us a ringside seat. Learn more
Books I have illustrated